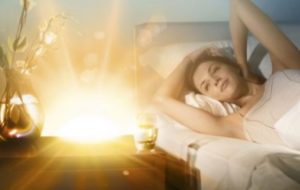 By Cathy Eck
This article is meant for you to determine if you might be ready for something which was once called initiation.  Initiation is not the same as walking a spiritual path, improving our mind, releasing our emotions, enlightenment, or ascension.  So read carefully; you might discover that you thought you wanted spiritual awakening or enlightenment, but what you've always really, really wanted was FREEDOM!
There is a world that exists right before our eyes, and it is Heaven on Earth.  But we can't see it because we've been trained to see a false illusion of pain, suffering, anguish, and despair.
Before I give you the list of ten signs, however, realize that these are not really signs that something is happening automatically.  Others have written many such things that are just plain false.  No aliens or guides are helping you to awaken or ascend to nirvana.  You aren't going to get free by swimming with dolphins.  There is not a magic date where we all become free.  Bodily discomfort is not ascension; it's exposing a need to let go of some belief, action, or repetitive thought.  Freedom isn't even about getting into temporary blissful states where you have clarity.  What I share is about living permanently 24/7 as your True Self.  You can get there; and if you resonate with these signs, that is most likely where you want to go.  You might even say that getting free is your purpose in life.  But it took you awhile to get this messed up so this isn't a weekend workshop.  It is a new way of life.  On this blog, and on my other site, No Labels, No Lies, I tell you everything you need to know to get there.  But no one can do it for you.  If they tell you that they can, they are lying.  This is your quest, your journey; and hopefully, you can enjoy it even though it will be very challenging.
You may have been doing spiritual practices or learning about the truth for awhile.  That isn't going to get rid of these uncomfortable signs.  Only letting go of your false self will do that.  You must eliminate your beliefs, even the spiritual and good ones.  Most people don't realize that.  It's a common trap that many are falling for today.  They're working so hard on their spirituality, and their life is going downhill.  They feel sad, depressed; and they are often in physical pain.  They are feeling emotional all the time, or they believe they are too sensitive.  Those symptoms mean you are going the wrong way.  You don't need spirituality because you were born spiritual; you just want to be your Self in a world that has not made that easy.  If you remove the unspiritual aspect of the false self, you end up with the spiritual being that you are now and have always been.  You can't become spiritual.  You can only reveal your spiritual nature, which in initiation was called your True Self.  You will be awake, enlightened, all-knowing, wise, and most important free.  So read on.  See if you match this very general description.
These are symptoms of dissatisfaction with the illusion.  You are tired of living in the fallen world of good and evil.  That's a good thing.  But the illusion isn't going away.  To live the life you want, you have to exit that perspective.  The illusion is simply a way of thinking that produces a false reality.  The reality is false, but it looks real.  Consequently, we believe it to be true.
Your body and life are telling you that it's time to let go of your false self, your beliefs.  Be your SELF!  It can be a very cool, as well as, a very trying time.  So to escape, you have to learn to let go of your own false thoughts.  This is an entirely inner journey.  You don't have to step foot out of your home to go on this quest.  You can stay in your PJ's.  You have to learn to use your emotions as they were originally designed.  If you don't know how to do that, then visit my other website No Labels No Lies; that blog focuses on technique.  This blog focuses on the history and research that backs up the techniques.  Start with the oldest posts and move forward.  You'll find everything you need for free.  I've set this up to be done in a do-it-yourself format.  In theory, it is simple.  But the illusion has become quite complex; therefore, I've said it in many different ways.  There is no fluff on these blogs.  Every post contributes something to your understanding.
False Labels and Lies
Sadly, many of these signs of the desire to remember our True Self and needing to let go of the false self have been labeled as problems or diseases; this causes us to get trapped in the false world again and again.  We think there is something wrong when there is actually the prospect of something right.  Then the New Age labeled many of these same signs ascension or awakening.  That has caused us to hold on to them and not treat them as a signal that something needs to be addressed, i.e., we need to let go.  We become like drivers of a car where all the emergency lights are flashing, but we think it is a pretty car feature.  It's not good for the car.
False beliefs always come with emotion, usually lots of it.  And we've often numbed ourselves to emotions in the past because we did not know how to let go of the causal beliefs.  We did this because we felt trapped; and when in prison, it's more pleasant to numb yourself than to feel emotional pain.  Many of us created positive, happy or spiritual personalities to mask our pain.  Others simply wallowed in the sadness and hoped for a little attention.  Others just became angry as hell, hoping to project their emotions out on to others.  We must be willing to feel again to know true from false.  Discrimination between true and false is the connection with the divine that we all seek.  When we can discriminate all the time, we stay on our path.  We live our life.  We never feel alone.  We are connected all the time.  We are free.
1.  People who once sounded intelligent or spiritual now sound ridiculous.  But often you feel you have to believe them because lots of people do.  You don't.
I was once a cruise ship where a Rabbi provided a daily, religious service.  He spoke about the story of Noah's ark.  He never once offered a metaphorical interpretation or even a lesson.  He told it as real proof and reason to fear the end times, God hates us, story.  I almost started to laugh.  He really took that story seriously.  He really thought that animals marched on the ark two by two.  He was an adult, a mature man, who never questioned the logic of the story.  He sounded like a child.  And people applauded his sermon. They didn't question his words because he was an authority.
How do I know that story is not true?  I could say it is illogical to think that one man could get two of every species of animals on an ark.  I couldn't even get my dog and my cat in the same room most of the time.  But logic can lie.  A better reason is that the notion that God would wipe out his own human children scares the crap out of us.  It makes some people good and some evil…that's the fallen world or the illusion.  We have to believe in a God that is judgmental and punishing to accept the story at face value.  I've discovered that when our emotions roar we are thinking or hearing a belief, not the truth.  Stick with me and you will see that too.  It is the greatest secret in the entire world.  It is the Holy Grail.
People point to the Bible as the word of God as proof for the stories.  Much of the Bible was written by initiates, and they didn't perceive the world like people do today (but we'll leave that for another article).  The truth is that our concept of God fell, not humans.  S/he went from being a pure creator to a punishing judgmental male jerk (a projection of the minds of the leaders of that time).
My sign number one isn't only related to religious thoughts.  It also relates to all those self help and spiritual teachers out there.  As you let go of beliefs, you will automatically see that they were just giving you their belief system.  Becoming your True Self requires holding less beliefs in mind–not more.  But most people have been on a quest that caused them to acquire more beliefs, and often their beliefs conflict with each other.  That's why they feel so bad.
2. You feel constant emotion around other people, and you blame the other people (that's causing more emotion).  
This is a very confusing symptom.  People often believe they are depressed, bipolar, or going insane.  They also often think the emotions are coming from others.  Sometimes they are; but even if they project the emotions, you don't have to accept the projection.  The emotions are caused by believing what others are saying; and the others aren't speaking truthfully.  When we believe them, we generate the emotions.  The emotions are just trying to tell us not to believe them.  We should just ignore them.
We should be able to tell others that their words are not true.  But we developed this habit as children of believing what others say.  This frequently gets worse when people start listening to channels and spiritual teachers.  They say things that sound true or appealing, but their words are mixed with falsehood.  They can take us downhill very quickly if our discrimination has been confused. Learning how to discriminate and know true from false sorts through the teachers and preachers.  You'll find that no spiritual teacher is of value to you.  We were born spiritual.  You always had the truth inside.  We don't need to get it from another.  In fact, you lose access to your own truth when you learn truth from another because your false self creates a spiritual clone that blocks you from your True Self.   But you can let those false truths go, and reveal your own pure truth.
3.  The body demonstrates the symptoms of all the illnesses we once believed were real.   
This is a crazy one.  Most of us connected our false mind to our body because we were taught to.  We took in lots of knowledge that we acquired from others about health, food, disease, exercise, etc.; and we gave the knowledge power over our body.  The True Self manages the body perfectly, but not if it isn't in charge.
Our false mind holds beliefs about diseases, and we believe they are real.  If we meet the conditions for the diseases we hold in mind, we get the symptoms.
We are naturally healthy; only a false self can get a disease.  To get free of the disease mindset, we have to face all of our beliefs and let them go.  So our body will show us what we believe.  Our job is to recognize the beliefs we demonstrate, and let them go.
When disease symptoms first arose within my body, I thought I was being punished by the mean God in the sky.  I could not find the cause.  Sometimes my body was giving me a specific metaphorical message; but more often I had just accepted a belief in the disease or punishment from another.   We have to remember that doctors and healers don't have an income if we are well.  They have little motivation to see us as perfect.  Once we see this, we stop asking them to keep us healthy.  They can't do it because they hold in mind a huge catalog of things that go wrong with bodies.  They can't imagine a person who is perfectly healthy; so don't ask them to do so.
4.  We feel like we don't belong.  But that's our false self talking.
We go to the doctor and feel like we don't belong.  We don't.  We go to church and feel like we don't belong.  We don't.   We take a class and find the information doesn't feel good.  These were all places that we previously went to feel safe or included.  They're hang outs for false selves.  The false self hates being alone.  It wants to be among like-minded people.  It's lonely.  The True Self is happy alone or with people.  It never feels like it doesn't belong.  It doesn't need support groups.
Oh we definitely DO belong in the world.  The world was designed for the True Self, not the false self.  But the True Self doesn't feel lonely.  It's connected to everyone unconditionally.  If we feel lonely, the false self is talking.
It's the false self that doesn't belong.  The false self projects an illusion.  Often it is very hard to remember that when we see how well the world accommodates false selves.
5.  We can no longer work for the man.  But really its because we don't want to be submissive to the man.  
We finally quit that secure job, and our family and friends lose it.  They're sure we'll be homeless; and if we share our family and friend's beliefs, we will be.
We've lost our ability to play the master-slave game.  That is a cause for celebration.  But it often doesn't feel like a celebration if we're surrounded by people who remind us that our future home will be the sidewalk on Main Street.  Don't worry.  They are just showing us some of our fears that we still unconsciously believe.  Notice that none of the things they say feel good; so they are not true.  A belief will leave when you no longer believe it.  It needs your attention to thrive.
We are not meant to struggle to fulfill our dreams.  We are not meant to work to make another rich.  It is not virtuous to work hard in a job we hate.  Our work was meant to be a labor of love, and we cannot be happy until we achieve that.
6.  We lose our empathy.  That's good; but it should turn into compassion. 
This sign of remembering confused and bothered me so much.  I thought I was becoming a bad person.  I thought I was turning into a robot without emotion.  I thought I had Asperger's syndrome.  However, emotions are meant to be personal.  They are meant to help us keep our own mind pure.  Emoting about another's thoughts is like feeding your friend because you are hungry.  It's stupid.  As we let go, we learn to replace empathy with compassion.
Compassion means that when you are sitting before me projecting your mental shit all over me, and I recognize that it's not true.  I don't believe a word you say.  I may even remind you that you are believing lies and not being true to your authentic Self.  I don't agree with you.  I don't pick you up or sympathize.  I merely help you discriminate.  I help you to return to your own True Self where there are no problems.  The best example of this is Jesus.  He never believed another's lies, and that's why he could support another in healing anything.  He was not sympathetic, or empathetic; he was compassionate.
We live in a world where we are told that we should feel sorry for others; we get approval for being sympathetic.  We fish for others, and they never learn to fish.  People learn to fish when we tell them how to fish and trust them to do it.  Sympathy never freed anyone; in fact, it keeps the person who gives it and the one who receives it in the prison of the false self.
7.  You feel like you have no purpose.  But it's likely that your purpose is to get free so you can do anything you want.
All those fake purposes of serving others lose their luster.  You can't imagine doing the things that you used to do.  You feel the need to do something but don't know what to do.  Often, you have no motivation to do much except heal your own mind.
That is great news.  Freedom is your purpose.  Being your Self and expressing that Self is your purpose.  Jesus said it well.  "Find ye first the kingdom of heaven and all else will be added unto you."  
Congratulations, you're True Self is screaming at you.  Don't worry about your purpose or try to explain yourself to anyone.  Just keep letting go of the beliefs that pollute your mind or tell you what you should do.  Don't take on new beliefs.  If you are doing spiritual practices, take a break.  A few months of letting go, and you'll see they were causing or contributing to your apathy and confusion.  Freedom is not believing anything.  We just know what we know.
8.  You can't stand small talk anymore.  But I'm not saying small talk is bad.  It's just that your mind wants you to go deeper and let go.  
Remember all those parties that were so fun where you played silly games and talked about your problems for hours.  Those don't cut it anymore.  When someone says, "How are you?"  you know that they don't care.  When they ask you what you do, you have no frickin' idea how to explain it without being judged.
But there is another New Age/self help confusion that is part of this.  People started to think that having a deep or intimate conversation was talking about their beliefs or processing with each other.  That's just a big load of crap.  It's perpetuates our problems.  We don't fix anything by talking about it.  Letting go isn't about looking for reasons.  We eliminate our problems when we let go of the causal beliefs.  To do that you have to follow your emotions and listen.  Much of the letting go work is best done alone.  So that's why you find an aversion to many frivolous social activities.
9.  You run like hell from religious people.  
Once you wake up, you can see religion correctly.  Religion must submit to the True Self, not the other way around.  Once our mind is clear of religious beliefs, we see the true meaning of the Holy books.  I can assure you that the masses are not even close.  But like I said, I include the spiritual seekers and teachers in this same group.  The new Holy books are no different than the old Holy books.  They are all very misunderstood.
10.  People see their own reflection in you.  Everyone projects in the illusion until they know how to let go first.
This is the sign of remembering the True Self that often sends people right back into the illusion because it's how we got programmed in the beginning from our parents and other authority figures.  People in the illusion, who live from the false self, can't see the past the illusion to freedom.  They can only see their own filter of the world.  So they look at you and can't see you; they see their old judgments of you.  They see their own beliefs projected on you.  Don't let it bother you.  Just know that they don't realize what they are doing.
180 Degrees
The true world is 180 degrees from the false illusion.  But these two worlds or perspectives are not opposites like black and white.  The false world is truly an illusion; it's real but not true.  The true world is perfect and real and true.  You can't eliminate it or destroy it.  So problems in the illusion are really symptoms of believing the false self.  If we let go of the belief that caused us to see that world, the problem or symptom will disappear.
The mind can trick us into thinking the illusion of pain and suffering is real.  Each time it gets us to believe the old lies, it temporarily pulls us back into its false world.  But once we get a glimpse of truth and freedom, that old illusion feels really bad.  Allow that bad feeling to push you harder toward freedom.  Use it as a reminder to let go.  Trust that your emotions are exposing the lies and beliefs in your mind, and let them go quickly.  You don't need to know the reason for things happening as they do.  You just need to eliminate the cause; then it can never happen again.
Stay with it.  Often when the world seems the most dark and things look hopeless, if we just let go of one more lie, a level of clarity appears; and we will see some validation that reminds us that we are headed in the right direction.  We gas up the car and keep driving.  We'll be there soon.
Another post related to this one is:  Thirteen Signs You're Freedom Bound!