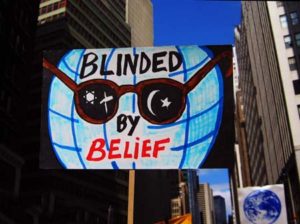 By Cathy Eck
To let go of any belief, you don't have to do anything.  You just have to recognize that it is a belief, not the truth.
At one time in my life, I would desperately pray to God, "Just tell me what to let go, and I'll do it."  I often hear people say, "How do I know what to let go?"
The truth is that you can't screw this up because you can't let go of the truth.   You can only release a belief.  Good news, huh!  So why is there so much confusion around what to let go?  Because most people believe that their beliefs are true, and they can't let them go or change them.
The Role of Emotion
The original role of emotion was to keep us on our true path.  In our physical world, all action is preceded by thought.  If we think pure, true, and win-win thoughts to get to our desired destination, we will move forward with a calm, inspired confidence.  We'll take only joyous necessary actions.  The journey will be as wonderful as the destination.  But if we think win-lose thoughts that take us off our path, we are hard-wired to experience emotion as a kind and gentle correction.
How History Affected Beliefs
Throughout history, power-hungry authorities wanted their laws obeyed; they wanted their beliefs to be the right ones.  They presented their religious and political agendas as true and ordained by divinity.  People were killed, punished, or deprived if they didn't follow the authoritarian laws.  People accepted the authority figure's beliefs so they could survive; and then they forgot that those beliefs were false.  The people originally knew the beliefs of the rulers were false because they felt terrible when they accepted them into their own mind.  But they didn't believe they had the power to change the mind of the authority.  And if you look at any place you feel stuck today, chances are that there is a voice of authority in your mind that you feel powerless or unauthorized to change.  So life slowly evolved to match the vision of these leaders.  A new normal was born.
These power mongers declared our feminine aspect evil so that the followers would not challenge their flawed reasoning.  Intuition, the arts, emotions, homosexuality, and anything feminine were all labeled useless, bad, or evil.  Emotional people were considered crazy and demonic so that their intuitive insight would not expose those who were winning at the expense of others.  History (or his story) was fed to young children through education and religion.
All children are born with emotions that work perfectly.  When they hear something false, they react with emotion.  That is how they were designed straight out of the womb.  Over time, the false ideas of the elite no longer had to be taught or forced.  The parents willingly programmed their children from birth with the false illusions of those in power.  People trained their children to obey the illusion and to ignore their true Self while they believed they were building character and morality.
Reversing the Error of History
Reversing the error is simple, but not easy.  We must see our mind as a navigational mechanism that works perfectly.  We think a thought, and then we have a feeling related to that thought.  If the thought we think is true, we will feel clear and calm.  If the thought we think is win-lose or false, we will experience emotion.  We must make the decision to let go of any thought (i.e., not believe it anymore) that does not feel good.  Emotion must become nothing more than a signal to correct our thoughts.
This would be easy; except many people have been heavily conditioned to obey authority.  They feel good when they obey the rules (according to society's definition) and bad when they don't obey.  If you find yourself in this situation, you will first have to challenge your desire to live for the approval of others and ignore your heart.  Find what really brings you joy and make that your target.  That will reset your mind and emotions.
How Beliefs Relate to Emotion
I had a nasty third-grade teacher.  She told us to answer her questions, or she would punish us.  I studied hard and raised my hand every time she asked a question.  One day she looked at me and said, "Cathy, stop raising your hand.  You are a know it all."  I was flooded with emotion.  Years later, I was still afraid to answer questions.  I could not see that my teacher's words were utterly ridiculous because I was small, and she was an authority.
So I mentally went back in time and brought up the memory.  I played it very slowly in my mind.  I watched my emotions with each frame of the mental movie.  I noticed that when she said, "You are a know it all," I felt an immediate surge of emotion.  I instantly believed her words even though my emotions were telling me not to.  The emotions were a signal from my true Self to ignore her.  It was that simple.  But I had lost the user's manual to my mind.
I discovered the most important key to mental and emotional freedom.  Our emotions were designed purely for discriminating between true and false.  My feminine aspect (emotion) was telling me to ignore my teacher because she spoke from a win-lose, false belief.  But, I accepted her words as true because of her superior position.
My inner feminine was guiding me perfectly through emotional signals. Once I saw that my teacher was wrong, I was free.  It didn't take years of therapy, rituals, grueling practices, or complex visualizations.  I didn't even have to talk to my teacher.  I was able to gently witness the emotions as they left my body.  I simply reminded myself that her words were false.  This process produces pure forgiveness because the memory is forgotten once it is corrected in our mind.
Since that day, I have replayed and repaired many events from my past.  I challenge any thought or idea that doesn't feel good.  With each released belief, I gain a little more freedom.
Truth vs. Beliefs
The truth always feels calm and good.  There is no emotional agitation in our body when we are thinking a thought or accepting the thought of another that is true and right.  False ideas have no power unless we accept them as true.  Each time we think a false idea, we feel emotion.  Over time the emotion becomes like a magnet and pulls into our life the manifestation of the false idea.  Now we are sure that our false belief is true.  But reality and truth are not the same.  Reality is the manifestation of something false; and it doesn't ever feel good.  Truth is the manifestation of something true, and it fulfills our heart's desires perfectly.
This is good news.  No disease feels good.  Poverty doesn't feel good.  Crappy jobs don't feel good.  Those situations are perpetuated with beliefs.  And we can let them go.
Listening to Your Inner Feminine
Our body-minds have accumulated many beliefs due to thousands of years of history where we believed lies.  If we want to live in freedom, abundance, joy, and unconditional love, we have to eliminate those old beliefs.  We use the feminine Goddess within to do this.  Fortunately, once we know how to let go, beliefs come out much more rapidly than they went in.  Freedom is entirely possible in this life while living a normal existence.
All that is needed to let go of a belief is the recognition that it is false.  If we have believed a lie for a long time and have accumulated emotion in our body around that belief, we may feel a huge rush of emotion as we expose the lie.  That is the magnet losing its power.  If we let go of all of the emotion connected to that belief (it is limited in quantity; and it will not continue forever), and no longer accept the belief as true, we have just prevented something terrible from happening later in life. That belief will not manifest.
This is a powerful, powerful practice. It is real, permanent transformation; it is not a quick fix.  Eventually, our true Self is running our show, and our mind becomes naturally silent.  Our body becomes calm and healthy.  And our heart opens up and leads us gently through life.