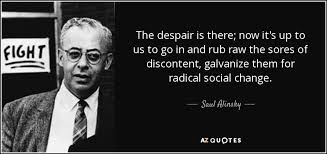 Democratic Philosophy
In order to understand democratic philosophy, I decided to read the book that supposedly inspired Hillary Clinton and Barack Obama. It's called, "Rules for Radicals: A Practical Primer for Realistic Radicals," by Saul D. Alinsky. It provides a perfect example of level confusion.  Here is quote by Mr. Alinsky:
It is painful to accept fully the simple fact that one begins from where one is, that one must break free of the web of illusions one spins about life. Most of us view the world not as it is but as we would like it to be. The preferred world can be seen any evening on television in the succession of programs where the good always wins—that is, until the late evening newscast, when suddenly we are plunged into the world as it is.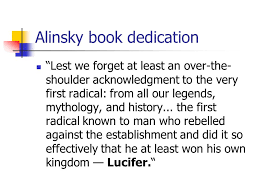 We can understand Alinsky's mind better if we understand his Lucifer quote.  I don't want to get into the real meaning of Lucifer.  I gave a little information on this topic on a No Labels No Lies article about Love.  I'll say more another time.  But to see this quote from Alinsky's point of view, we have to know who he considers the establishment.  Since he's Liberal, we can presume he means the Conservatives.  Conservatives often fear the left-wing Liberals because Conservatives are generally religious so they project out Satan.  They fear their enemy.  Liberals are Satan to Conservatives; and Conservatives are establishment to Liberals (according to this Alinsky quote).
The Liberals do something that I've often seen in Hollywood.  They take the projection from the opposing group, and they turn it into power or who they are.  If you are going to be an evil character, then become the best evil one ever.  Be memorable.  In fact, make evil into good.  So Alinsky followers take the projection from the Conservative party, and redefine it.  Alinsky makes Lucifer the great power.  God is just a weak, old man.  This idea of using projection as a source of power is a strange abomination of projection.  It follows the idea that emotions are a source of power, something that is often associated with Satanism.  The Conservatives are projecting Satan, the part of their mind that they don't want.  So it is as if the Liberals are making the shadow more powerful than the projector.  Think about that, and it makes no sense.  When you walk down the sidewalk on a sunny day, you don't expect your shadow to jump up and kill you.  Your shadow is powerless.
So they are basing their entire ideal on the idea that the shadow can defeat the projector.  This is evident in my analogy of the news being their truth; the ideal of heaven on earth is imaginary.  If you think about this, you start to see that at the physical level, the Liberals and Conservatives are really deeply connected at the good-evil level.  They are really fighting over who is the evil one.  The Conservatives project Satan, but then the Liberals project back by redefining things like racism, sexism, homophobia, etc.; so that they are the good ones and Conservatives are bad.  It's like a never ending circle of shit.
Fortunately, Trump ignores the religion issue as much as possible.  He focuses on getting to that win-win.  But often when you hear modern liberals talk, you can sense the lies.  You wonder how they do that and don't feel guilty.  They believe that they have to lie to you because you are insane, asleep.  They are lying to you for your own good.  My ex-husband had this perspective.  He was lying so you would not get emotional.  He was taught that emotions are bad, and he should not cause them in another.  You can see this belief in many liberals.  They are trying to stop the emotions of the victim.  But the victim has emotions to show them to let go.  Thus, the Liberal movement opposes letting go.  It makes one wrong who gains power by letting go.  We must see this if we want to live a free life.  Or else, we will become caught in the Alinsky trap.
Let's look at Alinsky's Democratic Philosophy from the mental level.  Lucifer was a rebel against God.  He would not follow the false God of the Old Testament.  We are totally in agreement about that.  I won't follow that asshole either.  However, I say, Lucifer became the brightest star, the light bearer, because he didn't believe the false God.  Alinsky believes that he must have been more clever and more powerful than God or God's believers (Conservatives).  He must win the battle of Armageddon.  But as I've let go, I've come to know that is a false perception.  The only way Lucifer could win against the powerful false God was to not believe God. God was the construction of beliefs…all false. In my Lucifer's world (initiation), God became a powerless, false character.  Then without effort, Lucifer became the brightest one.  He moved from the bottom of the triangle…the battle between Conservative and Liberal…to the top, true leader.  In letting go, we are no longer accepting the projection of our false God.  Projection is the weapon at the bottom of the triangle where everyone's mind is dual.  We aren't using a fake power against an enemy.  We are just real power; then the false power goes away. We are too bright for it.  It knows it cannot win against us.  It must join us or go away.
Humans Are Not Paper
The Nature of People Pleasers

Impossible Dream
People are much more than stuff.  Their status and suffering in life is the result of their beliefs.  If they want to hold on to their beliefs and false desires, that is their choice.  They are choosing to separate from you and I.  When people separate by accepting beliefs, let them.  That is the natural order.  It's effortless to do that.  But if you put pretend clones on everyone in order to make them alike again, which is what Liberals try to do with their politically and socially correct words and behaviors, you've messed with that natural order.
As you let go, you realize that you connect with everyone at the True Self level, and you always did.  But clones have covered their True Selves up, so you might not feel connected to them unless you see their clone as false.  Strangely, they may see themselves as connected to you and try to find that false place of agreement.  If you realize that isn't necessary, their connection attempts will fail.  You will find things that you can do and share in common.  But don't try to connect on beliefs.  Let them believe as they do.  You don't have to honor their beliefs.  Two people can share an experience physically while each has a completely different reason for engaging in the experience.  As long as you don't feel you have to share beliefs, you will have fun together; after the experience is complete, you will part without remaining falsely connected.
Also don't feel bad for them when their beliefs produce problems.  This one was always hard for me.  I didn't want them to suffer.  They didn't want to hear that they caused their own suffering.  But I came to realize that if someone is sure their beliefs are true, they probably have to live them out to see that they are false.  That is their choice.
Take your attention off of others.  Remember, the perfect mind is not organized.  It moves from topic to topic with ease.  It is creative and alive.  It can find whatever it needs when it needs it.  If there is a natural connection with another, you'll find it.  If not, use them as practice in being yourself around others who are stuck in the illusion.  Your job is to witness your mind and to keep cleaning it up.
Freedom
The Alinsky Democratic Philosophy is about as far away from freedom as you can get.  It makes a person's beliefs into their identity; and then it even tells people to accept the beliefs of all the other groups.  It creates an unnatural organizing, which is why his system requires organizers.  But then, they get nothing done.
Think about that desk.  If you don't naturally organize as you work, then you end up with a big mess.  Instead of moving forward, you end up taking a lot of time to clean up.  That's also true with the false mind.  That's also the government…they convince us that moving shit around is leadership or even progress.  They convince us that they are going somewhere when they just wander endlessly in the desert.  They convince us that hope is change when hope is just hype.
It seems that this is a very old point of view that goes back to the very beginnings of the illusion and the first crappy ass leader, Moses.  But if we understand it, and let go of any tendency to believe the Alinsky Democratic Philosophy, our life becomes a lot easier.  It isn't true.  We don't follow others who are lost.  It doesn't mean we don't love them or care about them.  We set our desire with confidence; and we let go and follow inspiration.  Unlike Alinsky's model, our destination is assured.  Perfection is absolutely possible.
Some Things To Ponder
After I wrote about this topic, many people saw the light.  They flipped over to the Trump side of life and suddenly felt much freer.  But I didn't just make that 180 degree flip, and you shouldn't either.  As I was observing the candidates of the Presidential Election 2016, I was letting go.  That is how I came to finally see the truth of the situation at the mental level.  It took me about three months to see it clearly.  So don't just take my word for it, let go.  Here are some questions to help you clean out the false liberal mind.
Examine the typical Liberal Democratic Philosophy.  What groups of people do you view as separate?  Why are they separate from others?  If a group is particularly charged with emotion, what beliefs cause them to separate from the whole? Let those go.  If we are clear with regard to a group of people, we will see that their beliefs separate them from us or others, but we hold no beliefs in common.  So we can feel and honor the True Self connection even if we are not sharing our lives at this time.
Take someone like Alinsky, Hillary, Obama, or Trump, and let go of the beliefs you see in them.  I play a game that I call getting others to freedom.  I pretend it is my job to free them…that they are entirely my creation.  What do I have to let go so I can imagine them free?  This is very powerful.  I see things that I'd never see watching my own very simple life.
Step in to the liberal mind, and look at the Conservatives.  See if you can understand why they see them as threatening.  I would guess that most liberals were Christian or Jewish earlier in life, and they now consider themselves spiritual.  So they fear that their Christian or Jewish beliefs could come back and jump in their mind.  They don't think about Satan, or they pretend to be above Satan.  But they believe in Satan.  They did not let those Christian beliefs go, they just put other beliefs on top.  Liberals often have big clones.
Other Liberals are just people who are being conned with false promises.  That is how blacks, gays, and Latinos ended up in that group.  They were used for their voting power.  Examine any false leader that tried to manipulate you into following them by making false promises.  See if you still hold those desires in mind.  If so, let them go.  They might be in the way of finding your True desires.
Examine the tendency to people please or tell someone what they want to hear.  Let go of any way that you think they will punish you for saying or doing the wrong thing.  Examples are:  banishment or the silent treatment, physical torture, nagging, manipulation, guilt, shame, false labeling, blame.  People teach us that they will issue such punishments, and we fall into line to avoid them.  But if we let go that others can punish us in this way, and we don't accept their projection, they start to feel bad when they do it.  Then they eventually stop.  Their plan doesn't work anymore.
Take a look at the word "hope."  See if you have desires that you hope will come true.  We think the hope is helping, but it actually keeps our desire away.  Let go of the hope.  See what fear or frustration that brings up.
Take a look at the idea of organizing.  How do you feel about physical organizing?  Are you OCD, or do you avoid it completely?  Why?  Who are you trying to please?  What beliefs do you hold about organizing?  Often people feel that an organized home produces an organized mind.  That is backwards.  Our mind causes us to be organized or not.  If we let go of organizing altogether, things will be just right.