By Cathy Eck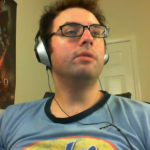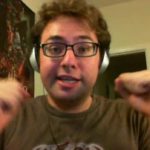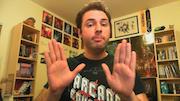 The many faces of Day[9], alias Sean Plott!
Since my son took his first breath, I realized that the young ones were closer to the divine and closer to the truth of life than any adult.  My greatest life lessons would come from suspending my beliefs and listening to them.  It was pretty easy for me.  Children's words and ideas just made sense.
Adults, on the other hand, rarely made sense.  At times, my training would get in the way — my training of what a child's behavior should look like.  But the more I watched my children, the easier it became to see the grown-ups' beliefs as simply lies.  Rules were made up to control our natural free spirit because our free minds and bodies aggravated people who had long killed off their spirits.  Children are born wise, not educated.  Children are born spiritual, not religious.  Children are born with love inside; they have to learn to hate from their parents and teachers.
My youngest son was a serious gamer.  It's a label that invokes judgment from even the most liberal adults.  Gamers are viewed as lazy, unmotivated, and self-absorbed. I always suspected that something magic was happening in the gaming communities; the joy on my son's face told me that it was serving some great purpose, and I would come to understand it in time.
Psychiatrists believe that the gamers are programming their minds for war.  I once asked my son about this, knowing that he probably knew more than most therapists.  His answer set me straight, "Mom, don't you think we know the difference between pretend and real."  Of course, he did.  It's the adults that don't know the difference between pretend and real.
For thousands of years, adults have been sending their sweet boys off to war playing a life-threatening, insane game to win land or a point of view.  And that is never labeled bad.  WTF?  Maybe the game of war has gotten stuck in the male, collective mind.  Then isn't the sane answer to let it work itself out on the computer?
Years ago, I noticed that if I let my kids eat all the candy and television they wanted, they soon normalized on their own.  If I said "no," then it became the forbidden fruit.  Read on, you'll see that at least some of these kids might be playing war games while they are finding peace and truth.  They're watching their minds as they play, and discriminating true from false at a very high level.
Sean Plott
So when Sam told me about Day[9]'s 100th show and how he shared the insights he gained from twelve years of playing Starcraft, I had a feeling that I was going to be inspired and enlightened.  Day[9] is the gaming identity of the real-life Sean Plott.  He shares his hard-earned Starcraft wisdom on YouTube with thousands of nerdy fans.  His older brother, Nick, alias Tasteless, is a professional commentator for Starcraft tournaments in the electronic game capital of the world, Korea.  Sean and Nick, like many other teens and young adults, have grown up gaming. But Sean and Nick took it upon themselves to enroll their mother in the program.
Sean admits that his mom didn't always understand Starcraft.  But instead of seeing a generation gap that could not be bridged, he decided that it was his job to explain Starcraft in a way that she would understand.  After all, gaming was his passion; and he needed to convey that to her.
Now he admits that his unique ability to explain the game to non-gamers or newby gamers came from his determination to convey his love for the game to his mother.  Sean completely accepted responsibility for his relationship with his mother, and he learned the profound power in taking a responsible stance.  He now tells kids to figure out how to share their passion with their parents because when they succeed, their parents will be their biggest supporters.
Sean discussed the lessons he learned about strategy from Starcraft in his 100th episode.  Over years of playing Starcraft, he encountered gamers with more than a few tricks up their sleeve.  But those gamers weren't the great players.  The great gamers used "good strategy and solid play."  They didn't rely on tricks or gimmicks.  Imagine if the business world got wind of that one — a lesson that few business school graduates seem to grasp.
As I listened to Sean, and as I watched my son game, it was always clear to me that the label of gamer was highly deficient.  These kids are students of life.  They are practicing life in a highly-evolved and fast-paced world.  Real life moves too slow for them, mostly because of the ridiculous beliefs that the adults in their life call rules and reality.  Sean described the skill set of a pro-gamer as having the "mind of a chess master and the dexterity of a musician."
Now where can they learn that in school — maybe practicing their cursive writing, a completely obsolete skill, or learning the beginning and ending dates of some ridiculous war that people had no business fighting anyway.  And is it lazy or wrong to do something you enjoy?  Really?  I think the notion that doing what you hate has lived far too long — time to go to war and kill off that belief.
Most modern education is about memorizing and passing tests.  It is about creating conformists that blindly obey authority figures.  Sean jokes that it's a world of "all A's for everyone."  The gaming world is real and fair.  You don't win because your mother has connections.  You don't lose because a judge made some biased decision. You don't get respect because you're older or have an advanced degree.  You get respect because you won.  And, you won because you deserved to win.
Sean says that he owes his quick decision-making ability to gaming because the game doesn't wait for you to ponder your next move.  And without the interference of grown-ups sharing their gems of crap with them (my addition, not Sean's), these young geniuses seem to learn and discriminate with a clarity and speed rarely matched in life.
Then there is Sean's take on competition.  He recounted a tournament where he played a kid he called the happiest player alive.  At one point, he said he peaked around his computer screen at his opponent and caught him beaming, smiling like a pumpkin on Halloween.  And he thought to himself, "This is a moment."  This was a serious competition, but Sean was noticing the joy on his opponent's face.  He got emotional describing the genuine kindness of the community of gamers and labeled his fiercest competitors "awesome."
Sean conveyed his understanding of win-win when he spoke of a tournament where he had to play his brother in the first round.  That was tough.  He didn't like competing against his brother and best friend in a tournament.  Clearly both could not win.  In this particular tournament, Sean won.  With tears in his eyes, his brother Nick looked at him and told Sean how proud he was of him for being such an awesome player — no anger, no animosity, and no jealousy.  That's what we call unconditional love, and you rarely find it in the world.
Nick sat on the sidelines supporting Sean as he advanced in the tourney.  And as Nick listened to the commentators, he realized that he could do so much better; so he offered to help them.  Without making the official spokespeople wrong, he brought his Starcraft wisdom to the microphone.  Sean was now equally proud of his brother; he described his commentating as flawless and entertaining.  And Nick (Tasteless) got hired on the spot.  Without hate, jealousy, or anger, both brothers won.  When we rise to unconditional love, everyone wins.
As Day[9], Sean realized what it means to be in the flow.  He talked about a very difficult match where he felt himself outside of his body witnessing his play.  He heard the words "I've won" even before the match was complete and watched as his higher nature took over and maneuvered his hands on the keyboard to the expected conclusion.  Of course, it makes sense that he would have this experience.  He was being his True Self.
He described his idol, FroZ, who simply decided to be a great player.  FroZ would see another gamer that he admired and declare that he would play at that level.  And he did.  He also learned from FroZ that only one person gets the blame for losing, YOU.
Sean understands losing but not in a win-lose sense.  He doesn't see losing as bad.  He sees it as something to learn from, data to be analyzed to make you into a better player.  You either win or you learn how to improve.  Thus, win-lose is transformed into win-win — a lesson that our world leaders need to learn ASAP.
But his greatest lesson came from losing his most precious sentimental object, his bunny.  Sean's childhood bunny was his lucky charm.  Bunny traveled with him to every tournament.  While competing in Singapore, Day[9] became very angry at himself for losing a match.  In fact, he pounded his keyboard.  He could not stop hating himself for his performance; and when he went to leave, he left bunny at the hotel.  Then he called to have it sent to him and gave the hotel the wrong address.  Bunny was lost forever in some postal neverland.  He learned from that incident that he wanted to win too much.  He had lost the joy of the game.  Anger had a price.  You lose whatever you love.
He had come to love or hate himself based on winning or losing.  And the price was too high.  Forget about his stereotypical, gamer magical thinking (he'll get rid of that too, I'm sure), he racked up a huge win for his True Self by realizing that competition is not the point of gaming.
I watched Sean's two-hour video biography twice, and I enjoyed every moment.  I didn't understand half of what he said as I don't know how to play Starcraft.  But his passion was real.  I got that, and it was beautiful.
In Summary
Sean summed it up this way, "I love Starcraft, and I love that I love Starcraft." Wow!  How many people can say that.  His Starcraft community A-list includes the best players from all over the world — talk about no borders.  His goal is to become an ambassador for electronic games in the western world so that they become as accepted in America as they are in Korea.  He wants to prove that gamer doesn't mean "homeless."  Well, given the depth of Sean's insights and mastery of life, I think we ought to drop some of the traditional reading, riting and rithmetic and let him teach Starcraft in schools.
This was a full-circle moment for me.  Years ago I made a tough decision to unschool my children because I wanted them to learn how to think, not what to think.  It was a difficult decision, and I faced nearly constant criticism.  But I learned that children are wiser than we give them credit for.  They are magical when they are passionate and inspired.
I've watched my son, Sam, gaming for years.  And it was clear that much more was happening than I could see or understand.   You see, Sean, Nick, and my Sam did learn how to think, how to discriminate, and how to make decisions.  They learned that from their love of gaming and their fellow gamers.  Their pure innate wisdom leads them.
I'm not saying school doesn't have value.  It does.  Sean has a Master's Degree.  My point is that other activities can have just as much, or more, value.  Learning comes in many places and forms.
While so-called successful parents call their sons and daughters lazy and unmotivated because they just want to game, they just might find themselves schooled one day.  So the next time, you get ready to judge a gamer, think twice, you just might be confusing a nerd with a master.
PS:  Here is the link to Day[9]'s site, if you want it:  https://blip.tv/file/3486428
PSPS:  Congratulations Sean for being chosen as one of Forbes 2011 30 under 30.  I can honestly say I saw it coming.  Here is link to read about Sean's achievement:  https://www.forbes.com/pictures/mfl45ielh/sean-day-9-plott-ceo-and-funsmith-day-9-tv-25/
Cathy Eck is the founder of Gateway To Gold.  She has studied the ancient mystery school teachings for decades. She is passionate about cracking the code of life's greatest mysteries and translating the ancient wisdom in a way that is practical, simple, and empowering so that everyone can remember their true Self and live a perfect life.   If you want to learn more about unschooling, here is a link to Dispelling the Myths of Unschooling.