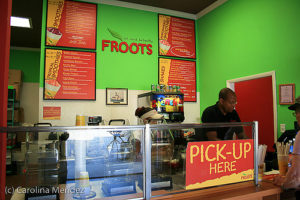 Do Tips Really Bring Good Karma?
I just walked into Froots, a cute little juice bar/internet cafe on Grand Turk Island.  I dropped my tip in a jar that said "Tips bring good karma" and said to the man behind the counter, "I guess I can always use a little good karma."  The man replied with a big, beautiful smile, "You know it is only a local call to Heaven on Grand Turk.  In fact, they say that Michael and Gabriel patrol the area regularly."  I chucked and smiled and responded, "Now I know why you have such good internet service."  The cafe was filled with travelers like me who were starved for a good Wi-Fi connection.
Little did he know how significant that interchange was to me.  Just a hour or two earlier, I ended my Caribbean Legends cruise presentation with the notion that the native islanders didn't see heaven as far away, unreachable up in the clouds.  They had the notion of heaven on earth.  They didn't miss modern conveniences or fancy clothes.  They were happy, beautiful, healthy, and free.  They enjoyed their life.
There are NO Slaves in Heaven
When Columbus arrived in the Caribbean in 1492, he met a bunch of happy, young looking, beautiful people who were basically naked and free.  Within a few years, many of those happy natives were dead and gone.  They didn't adapt well to slavery.  Then they were replaced by African slaves who also lived in bondage on these islands.  Natives and Africans, who wanted to escape the bondage of slavery, ran to the wooded mountain areas and hid to regain their freedom.  I'm sure they wondered how in the hell this all came to be and probably replayed the day that Columbus arrived over and over again in their minds.
They thought that the Spanish men with trinkets and fancy uniforms were Gods coming to protect them from the tribes that took their women.  They, just like the Christians of today, believed their God would one day return to earth to save them.  They never dreamed that Columbus and his men were people hunting for gold to pay for their journey across they sea.  Columbus immediately noted in his journal that these kind and gentle people would make good slaves.  He said that it would only take about 50 of his men with their weapons to take over the whole island.  How sad.
Spotting the Lie
It is said that the islanders caught on when they discovered that Columbus' trinkets contained no magic.  Their rocks and stones had magic in them.  They saw the great spirit in everything.  How did they know Columbus was not a god?  We can only guess that it was a feeling.  Freedom, joy, and love all have a certain feeling to them.  We know peace by the lack of agitation and stress that we often feel in life.  We know joy by the contentment that accompanies it.  Native people are more connected to their bodies and their feelings.  They have much more quiet minds.  They can sense the authenticity of something by the sensations they witness in their body more easily than us civilized folk.
So what I find most interesting is the fact that they didn't see Columbus for who he was at the outset.  It took the act of trinket presentation to expose Columbus' motive.  They initially trusted him and felt he had their best interest at heart.  Why?  Because their intellect was running a story, a memory, of a god-like being who once walked on earth and promised to return.  Their excitement and hope made them gullible.
How many of us have felt that way, especially in recent times when we may have given our money to a trusted broker only to find that they had selfish desires?  We see it in the politicians who say they are representing us, but then they represent their own interests.  We give our love to others in romance, only to find out the person was not as they seemed.  And we like the natives wonder how we missed the mark.  Why didn't we see it coming?
The False Notion of Hope
I see one common element between our modern dilemma and the natives' situation with Columbus.  In both cases, they were hoping that someone else could solve their problem.  For the native, they hoped that Columbus was the savior bringing them protection from the nasty natives on the other islands.  In our case, we hope that the broker can keep our money safe for retirement.  We hope the politicians will make our streets safe and our money secure.  And the Christians hope that Jesus is coming back to make everything right again.  We are suckers for hope.  We hope that others have our best interests at heart, but the truth is we don't know if they do or not.  We don't really trust others, we merely hope we can trust them.  And hope is imaginary; it isn't real.
Heaven is a Local Call
I like the notion of heaven being a local call.  It is only our beliefs that make it long distance.  The human mind slowly pushed heaven away from earth as we accepted the belief that God left earth with no itinerary for a proper return.  People who felt separate from God started to believe they had to get what they wanted from others.  They developed personas that look good but feel bad; and then they taught us not to trust our feelings.
I'd live in any place that could make heaven on earth a reality.  But no one is going to do it for us.  It seems that trust is the first order of business.  We have to start by becoming people that can be trusted.  We have to stop trying to trick and con each other with our slick personalities.  We have to go back to feeling and trust our natural sense of discrimination.  We have to recognize that Columbus was not a national hero, but a slick con artist.  Then when someone looks at us and sees us as a good target, we'll know.  In fact, when we completely drop our own con artist inside, we will see right though those crafty characters.  They will just look funny.  We know they aren't good because they don't feel right.  And we walk away.
Once we have our discrimination back and can see behind the facade of others, we can learn to trust those who deserve our trust.  We can give our business and our appreciation to those who are worthy of it.  Those that are not worthy of our trust will learn very quickly when their game no longer works.
I think we can do it.  I think it is time for heaven to return to earth.  I want to trust my family, my friends, my country, my world.  I think I'll use the pay phone before I leave Grand Turk.
PS:  I don't believe in karma–it has no basis in reality; and I doubt Froots does either.  But it made for a fun interaction.  It gave me something to send on their wonderful Wi-Fi connection.