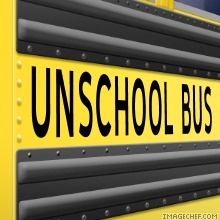 Removing the Judgment
Recently, I sent a blog article into cyberspace entitled, "Life Lessons from a Nerdy Gamer."  In that article, I mentioned that I chose to unschool my children.  This was not the theme of the article.  I offered it as a conclusion to explain why I saw value in electronic gaming when other people saw gamers as lazy and unmotivated.  I didn't think much about it, unschooling has been part of my life for a long time and has become normal.  But other people thought my point of view was very strange.  Many labeled me an unfit parent (and those were the kind ones); others were just curious and wanted more information.  So this article is in response to those who asked for information, and it is also for those who judged since judgment is usually caused by bad information.
What is Unschooling?
People often assume that unschooling is a rebellious stance against education.  I cannot speak for everyone.  However, in general, the idea that it is against education is a faulty assumption that can be corrected simply by studying the word unschool.  The prefix un means not.  For example, someone who is unkind is not kind.  What is the definition of a school?  One could say that it is a building where people go to learn, a place where education is expected to happen.  Some say it is an institution for learning.  So unschool means not a school, not a building, and not an institution.
If you don't learn in a building or institution, where do you learn?  Everywhere!  The world becomes your classroom.  The idea of learning at school tends to be limiting.  Our mind starts to associate learning with the building.  When that occurs, opportunities for learning are sometimes overlooked because the student is not in the proper building.  If we are bored when we are in the learning building, we may even try not to learn when we leave that building.  I speak from my own experience.  I was so unhappy in high school that learning became something to be avoided.
So unschooling means learning from life, learning from everything.  Seen properly, the unschooled child has much more educational time and opportunity than one who goes to a building for learning.  Children who attend school often turn off their brains when they come home—they are so sick of forced learning that they often move into an unlearning mode as soon as they exit the school door.   But learning for the unschooled is like breathing.  You don't turn it off and on.
If you are playing a game, you are learning.  If you are watching television, you are looking for new ideas, improving your vocabulary, or discriminating between truth and mere beliefs.  If you want to know something, you get online or hit the library and research the answer.  Your learning is independent of a place, a time, and a teacher.  Consequently, it has no reason to stop.
Who Teaches the Unschooled Children?
In an unschool environment, everyone is a teacher; and everyone is a student.  The child teaches the parent/teacher just as often as the parent/teacher tutors the child.  This is the part that seems to be difficult for many adults.  Unfortunately, most people accept the belief that adults teach and children learn; and if a child does offer something that is not in conformity with the adult's point of view, they are labeled disrespectful.  This is really a subtle form of elitism that turns children off from learning and stunts creative thinking.
When you have no limit on where you learn and no limit on who can teach you, your life becomes a constant quest.  Every moment has the potential to be life changing.
What Do the Unschooled Do All Day Long?
So what does an unschooler do all day?  They learn 24 hours a day.  They learn on holidays.  They learn during summer vacation.  They learn on weekends.
But, here is the key; no one tells them what to learn.  They get to decide that.  This causes the line between learning and play to become very fine.  My children did have loose guidelines created by the private school service that acted as our mediator for state requirements.  I'll explain that later on.
In time, the children learn to follow their inspiration; and their choices get better and better.  You see, something inside of us knows everything we need to live our best life.  And everyone has followed that inner voice of inspiration to a successful conclusion at some point in his or her life.  The average person does that some of the time; the unschooled child attempts to do that all of the time.
I didn't stand in front of the room and draw on a board.  However, if they asked a question, I'd answer it.  If they asked for lessons, I did my best to help them find the best teacher.  If they asked for resources, I often helped them search for good ones.  I also shared interesting things that I learned with them.  I invited them to classes that I attended.  I helped them complete the forms required by the state.  Without the limitations of the school schedule, we could travel to places of interest and experience places and people first hand.  I was a consultant regarding their education, not a dictator.
Learning was completely natural and effortless to my children as long as I kept my mouth shut and my mind straight; and believe me, that took some practice.  Remember, I was raised in the system.  I was terrified when I started down this road.
I realize that most of the people who judge me do so out of terror since humans have been conditioned to believe that different is bad.  People believe that if you don't feed children information, they won't learn anything.  In truth, we get what we expect from children.  Unfortunately, few teachers realize that.  They set their expectations way too low.
Adults are Afraid
As parents, we often try to force learning on our children out of fear that they won't make it as adults.  Just take a trip to a museum.  Most parents are forcing their children to read every sign as the kids give the parents a look that says, "I hate you and wish you were dead!"  Forcing kids to learn only makes them shut off unstructured learning potential.
Often we went to a museum and my children found it boring because it was only about the past or the museum didn't present both sides of the issue.  My kids wanted the full truth; they were future oriented.  But now we had an opportunity for a cool discussion and some creative thinking.  In short, unschooling makes you flexible.  Without an agenda, you never know what the lesson will be or how it will come about.
History, for example, is usually written by the winners—it is a one-sided discussion that bores quick-minded, future-oriented children.  I didn't recognize this when I got started down the unschooling path.  So we had to change history so that it became an opportunity to discuss choices and discrimination.  It wasn't that we didn't do history; we just didn't memorize dates and meaningless facts.
Learning About Unschooling
How did I learn about unschooling?  My oldest son attended an amazing, top-notch school in northern Virginia (outside of Washington, D.C.).  He was second in his class and considered Ivy League material; but he was unhappy.  In my mind and heart, unhappy was NOT OK.  One day, I got a call from a teacher who said that he was not paying attention in literature class (mind you, he was in the fourth grade).  I asked what they were studying.  I forget the name of the book; but when I checked it out, I was appalled.  It was a story about black slavery, mocking blacks, and portraying them as chicken-eating people who said "mammy."  He couldn't understand the teacher because she was from the south and had a rigid point of view.  She saw the stereotype as true, and presented the story from that angle.
I told the teacher that I would not apologize for my child because he couldn't relate to prejudice.  I let my son know that his humanity, his heart, had overridden his mind; and I was honored that he was that way.  I was thrilled that he was getting a "C" in the class.
That experience woke me up.  What if my son gained a great mind but lost his heart?  Oh I could not bare the thought of that.  For me, that would be a horrible failure for a parent.
As fate would have it, the next day a friend gave me a book called "Free at Last."  I could not put it down.  A brilliant man, Daniel Greenburg, wrote it.  Daniel founded a school in Massachusetts called the Sudbury Valley School.  In this school, the teachers would teach what the students asked to learn.  They waited until the children asked to learn.  It turns out that all children love to learn, but they don't learn on the same schedule.
I cannot express how much this book meant to me.  I owned a technology firm, and my biggest problem was motivating employees.  I realized that this book had the answer to my problem.  Motivation from the outside is only temporal.  Offer a person a raise or time off, and they work harder for a week.  Motivation from the inside is permanent.  The employees who loved their jobs described their work as play—I couldn't get them to go home.  I wanted that for my children more than anything; I wanted them to be completely motivated from within.  It seemed like an amazing life goal that would work for everyone.
My son actually borrowed Daniel's book from me for his next book report for this literature teacher.  She called and admitted that she had forgotten what teaching was really about.  I have to honor her for being open to learning — something not all teachers are able to do.  She gave my son an "A" for the class.
If you read "Free at Last," one story will steal your heart.  Here is the Cliff-notes version of it.  One boy would go to school, grab a fishing pool, and sit at the lake fishing all day, every day.  This went on for years.  Each year, his father would go to Daniel and ask when he was going to motivate his boy to do something other than fish.  Daniel would answer (I'm paraphrasing), "When something else motivates him in the way that fishing does, he'll learn that new thing; and he will do it with the same level of ability and enthusiasm as fishing."  He pointed out to the father all the things that this young man was learning from fishing—skills like patience, observation of his circumstances and how they affected his ability to catch fish, and patterns of fish behavior.  The father backed off, and the child fished for yet another year.  One day, the fishing pole stayed in the closet, and the child asked to learn about computers.  Upon graduation, that child immediately started his own computer company.  A couple of years later, he was doing very well with his business and a nice-sized staff of employees.  As Daniel predicted, he found something else that lit his fire, and his internal motivation led the way.
When my oldest son finished sixth grade, I sold my own computer business; and we moved to the country.  I decided that I needed to reevaluate school. My oldest son knew more than the seniors in high school in this rural area.  My daughter hated school so much that she cried every day.  And my youngest son would surely have been diagnosed with something like ADD.  There was no school like the Sudbury Valley School so I decided to model the school in my home.  I found a private school that supported unschooling families in meeting state requirements, offering advice, and streamlining the documentation called the Clonlara School in Michigan.
I realized very quickly that I was going to have to button my mouth.  I was going to have to allow the children to choose what they wanted to learn and drop my beliefs about what they needed to learn.  I was going to have to deal with my fears.  And, it was never easy.  But it got results; and those results motivated me to try harder.
Learning Inner Motivation
In the first year, my oldest son nearly went insane.  Since nursery school, teachers told him what to do and when to do it.  He was institutionalized.  Now freedom was terrifying; he feared he could not make such a big decision.  If you are never allowed to make a decision, at some point, you no longer believe that you can.  He would cry and beg me to choose what he needed to learn.  I had to ignore his pain and trust that he would eventually choose.  After two years, he did.
He chose to learn mostly through sports.  He would master a sport and then drop it for another.  He had a single digit handicap in golf, taught and competed as a snowboarder, played an intense game of tennis, worked as a personal trainer, became a 2nd degree black belt in Tae Kwon Do, and became a self-taught dancer.  He studied the workings of the body and the mental connection to movement.  He learned that he could have fun with a man of seventy or a twelve-year old child equally since they were both humans.  He learned that if he judged his opponent or himself, his game suffered.  He learned how to manage his mind and mute his critical voice.  He studied the effect that music had on his level of play.  I could go on and on.  What he really learned is that he could master anything if he wanted to.  The pure voice inside of him was pulling him on a path as fast as he could go — a path that I could not have predicted if I was Nostradamus.
I now observe this phenomenon in every child that finds a passion.  They will learn and grow at an amazing rate of speed.  In fact, Daniel Greenberg found that when you waited until a child asked to learn math, they could learn the entire first through sixth grade curriculum in six weeks.  We also found that to be true.  That leaves a whole lot of time for fun or learning other things that never get addressed in school.
My daughter focused her study on natural horsemanship.  I wrote about her in my article, "What is My Heart's Desire?"  
My youngest son led me to the gamers.  But he also loves to cook, participates in many sports, and edits videos for his brother and friends.  He loves everything about business and wants to be an entrepreneur.  He began unschooling after kindergarten.   So he knows nothing but following his heart.
He and I used to play business games all the time.  We'd eat at a restaurant; and instead of engaging in small talk, we'd talk about how we would get more people into the restaurant on a Tuesday night.  We'd evaluate billboards for their effectiveness.  We'd watch "The Apprentice" together and discuss how we would do the task.  On the surface, we were eating and watching television.  But in truth, we were both learning and growing.  And let me tell you.  I was in business for many years, and I once worked for the top accounting firm in the world; often, he had better ideas.  At fifteen, he got his first job as a cook in a grill.  He would share his ideas with the restaurant manager; and the manager said he could not believe what this kid knew about business.
Isn't This Obvious?
Now I must share with you that I thought everyone knew what I've described in this article.  My friends would tell me to write about my experiences, and I could not think of what I would say because it seemed like common sense to me.  I was completely blindsided when people started commenting after "Life Lessons from Nerdy Gamers," insinuating that my children didn't do anything but play.  I forgot the stereotypes of those educated in nontraditional ways.  We did encounter them all in the beginning.  But in time, people got to know my children, and they realized they were wrong.
In truth, people who met my children would often say, "You must be proud of your children."  No, I wouldn't say that I'm proud of them — that is not the right word.  Pride implies that they did something special or have some special esteem.  They really just follow their hearts — something which should be much more normal.  My children didn't learn what to think; they learned how to think.  But shouldn't that be normal?
I admire my children.  I still learn from them every day.  I respect them.  I enjoy supporting them; but I'm also very honest with them.  And I can be quite tough on them if they start following the crowd and forget their hearts.
What I Learned
In return, my children have taught me to be more patient, more loving, and much more passionate about life.  They have taught me that the people who command the most respect in the world are often the least deserving of it.  The people who are the most educated are often the most unwise.  And most important, they have showed me that an elitist on any topic is damaging to everyone around them.
They explained that I needed to stop being afraid of elitists and realize they are just trolls (that is their term).  If we think we know it all, we have lost our heart, our compassion, and our love.  We are no longer a real contribution to society, regardless of our title, special ancestry, or degrees.  A learner is not less than waiting to be fully cooked; they are interesting and ever expanding.
An Unschooler Never Really Graduates
You see, traditional school ends at graduation; unschooling becomes a way of life, a passion that never ends.  I didn't decide to take my kids out of school; I was inspired to expand their learning to include a much broader classroom.
Before I close, I must say something about socialization.  People think that children who do not attend school are anti-social.  My children are terrible at the typical social norms.  They are authentic, not superficial.  They are kind, not judging.  They don't tolerate manipulators or people who just want to be right.  They are able to enjoy their friends, but they also enjoy time alone without feeling lonely.  They don't think you are too old to be a friend because you are over thirty or too young because you are under ten.  If that is the definition of poor social skills, then they have them.  I can assure you they do not miss having good social skills.  The typical "How are you? I am fine!" way of relating is highly overrated.
In addition, there are very creative programs for unschooling available.  While my children did not physically attend school, they did take yearly exams and scored consistently above their age group.  They were in a flexible program and have a diploma and a transcript from a private institution documenting their self-designed curriculum. They went to sports events with friends at the local high school; and two of them went to the prom.  Thus, they never felt deprived.
On Being Unique
I once heard a saying that really sums up unschooling.  "If two of us are thinking the same way, then one of us isn't necessary."  I don't know who said that, but it is hard to find that in a classroom where everyone learns exactly the same thing, especially if it is only for meeting standardized testing requirements.  I'm not against school.  I, myself, have a Ph.D.; but I know from my experience, that Daniel Greenberg was right.  He was a man ahead of his time; and I respect and admire his courage and trust.
Inspiration, when nurtured, will always create the perfect, unique learning experience for every student.  Even in the classroom, if inspiration leads the way, the experience is improved for all.  It truly is time to stop teaching children what to think; and instead, support and appreciate them for how they think.  I'm not an unschooling evangelist.  I don't expect others to do what I did.  I don't impose my beliefs on another, and I never tell anyone they should home or unschool.  I honor every child and every path.  I know that some children love school.  I would never tell them to quit as long as what they are doing is working.
However, if a child is labeled a problem, has gifts that can't be nurtured in the classroom, or hates going to school, nontraditional schooling can offer a solution.  They may just have no problems other than they are unique.
I wrote this article (and my Nerdy Geek article) so that others might have a chance to see and appreciate that there are many different ways to learn that are fun and effective.  If nothing else, parents can use unschooling ideas during times when school is not in session to get more involved with their child's learning experience.
Every year, I gave my children the right to return to school.  They never did.  If you ask them if they made the right decision, I guarantee you that they will say yes.  I never thought I'd march down that path with them.  But I'm so glad I did.
You see, I learned the greatest lessons of all.  I learned that when my children didn't learn, it was because they couldn't see the value in the subject.  They realized that memorizing things you'll never use is wasting your mind and taking up bandwidth that could be put to better use.  Consequently, I had to get honest and assess if my ideas really were valuable or if society merely said they was valuable.
Often society was very wrong; and I had to learn to swallow my pride and let the children know that they were right and the adults were wrong.  I learned that when my children did things that didn't make sense, it is because some part of me didn't make sense.  In fact, memorization is only necessary when common sense and intellect are at war.  I learned that man made grammar, spelling, and history; but something greater made the child.  It just seemed wrong to trust the man-made stuff.
A kind word, a gentle touch, or an authentic vote of support can speed up learning exponentially.  But most of all, I learned to love life, to see the world as a place where you can learn and grow in every moment.  I learned that the best places to learn, and the most important lessons, are free.
If you think children need to be taught to learn, then explain to me how virtually every child in the world that has a cell phone (and I travel all over the world) can text at the speed of light, and none of them have taken a class.  Gamers rarely read the instructions.  They know they can figure it out, and they do.
I came to realize that my limiting beliefs that my children needed to learn certain things caused them to need to learn those things.  If I just talked to them like they already knew the subject, they often did.
My thoughts that learning was hard or took a long time became a self-fulfilling prophecy.  In most cases, a few hours with someone who genuinely knew what they wanted to learn was like a download of the entire curriculum.  The key word is genuine.  A false teacher is ineffective and slow; you can't fake it until you make it with kids.
I think the most important lesson I learned was that children are not born with religion, they are not born with prejudice, they are not born memorizing machines, they are not born with hate.  Adults teach them those things.  And it is never too late to teach us old dogs some new tricks.  If I can learn, anyone can.  I just hope the kids don't give up on us.
Cathy Eck is the founder of Gateway To Gold.  She has studied the ancient mystery school teachings for decades. She is passionate about cracking the code of life's greatest mysteries and translating the ancient wisdom in a way that is practical, simple, and empowering so that everyone can remember their true Self and live a perfect life.