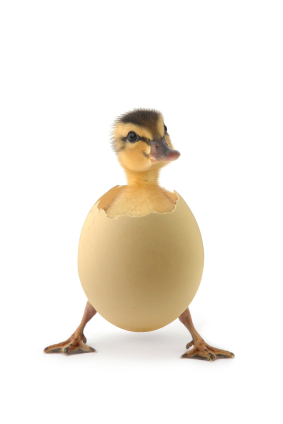 When I was young, my dad found a dead mother duck and her abandoned nest.  Wanting to save the ducklings, he gathered the eggs, brought them into our house, and set up a makeshift incubator system.  We anxiously watched the eggs, hoping that his efforts would save the ducklings.  Finally, one day, the eggs began to crack and out came one duckling after another.  Eventually, only one egg was left; and that egg was not cracking.  In an effort to help the duckling, my dad cracked the egg just a bit.  The newborn emerged.  But a few days later, he died.  My dad felt terrible.  He realized that the process of hatching was exactly what the duck needed to grow strong.  He felt that he had interfered with nature's perfect process.
My dad wisely used the event to teach us that when we don't let others do things for themselves, we deprive them of the chance to learn, to grow, and to strengthen.  That incident had a profound affect on me.  It made sense.  After all, every mother has listened to her two-year-old child screaming, "I want to do it myself!"  Humans learn codependency; but they are born wildly independent.  And often by adulthood, they have forgotten that two-year old wild thing, and they just want someone to crack their shell and hatch them.  They think they want to be rescued.
Now don't get me wrong.  I'm not advocating letting people struggle or suffer needlessly when we have the ability to help them.  But, we owe it to the person in need to provide the minimal care needed at the same time that we provide maximum encouragement and support to the successful completion of their quest.  That is a win-win approach to assisting others that is rarely practiced in our society.
And as I look back, it was my dad's perspective that labeled the duckling as struggling.  He thought he was being kind and supportive; but he presumed he knew what the duckling really needed and wanted.  This is odd since he was not a mother duck.  This duckling  may have just had his own timing.  He might have been enjoying his time in the comfort of the egg.  My dad saw something wrong, but was there?
Our world tends to classify people.  We determine what is normal and label anything outside of that norm as defective.  Since the other ducklings had hatched, it seemed this duckling was too far out of normal range.  I often wonder how many people are diagnosed as ill when they are just abnormal.  I wonder how many times more developed countries try to fix a problem in an under-developed country that the people living there don't feel is a problem.  I wonder how many people adjust to welfare and forget their power to rise to the challenges of life.  I wonder how many people force their religion on another in order to save them without realizing that the other person's religion is working just fine.  And then I wonder if those people who think they are saving another are really trying to rush the other's hatching process, robbing them of the strength they need to thrive.
Different is not wrong or bad.  A problem or challenge can often be the very thing that turns someone's life around.  What is an obstacle for one can be an opportunity for another.  It is hard to refrain from riding in on our white horse in a society that labels Mother Theresa a saint and puts caregivers on pedestals.  We label it tough love when we allow someone to solve their own problems.  But, maybe it is really unconditional love and trust of the highest order.  If we can clear our mind of our beliefs and judgments of those we think need saving, then whatever assistance we do offer will be that much richer and more valuable.
Lao Tzu said it well:  "A leader is best when people barely know he exists, when his work is done, his aim fulfilled, they will say: we did it ourselves."  Lao Tzu knew that if another does it for us, we feel relief for a minute or two.  We may feel loved for a short time.  We might feel that we have been saved from a horrible situation.  But we won't feel empowered.  We won't be in a greater position to handle the next challenge.  We won't have that great two-year old feeling of having done it for ourselves.  In short, we will have missed the opportunity to hatch.