Private Esoteric Healing

Private Esoteric Healing and Mentorship
with Cathy
Esoteric Healing
True healing of any problem or disease begins with finding the true cause.  The word esoteric means hidden.  So esoteric healing means nothing more than finding the true hidden cause.  Why is the cause hidden?  Because we've become such experts at suppressing and projecting our beliefs that we've hidden the cause of the problems and events in our life even from ourselves.  The most common remark I hear from people is "Why is this happening to me?"  Esoteric healing and mentorship helps you to answer that question for yourself.
Esoteric wisdom is clear.  Our false self is the cause of our problems.  In esoteric healing nothing is incurable.  But people often don't want to give up the notion of chaos or karma or God giving them a test because it means admitting that they are the cause.  Being the cause doesn't mean you are bad or even wrong.  It just means you don't like the results you are getting.  It means you need a course correction, which is done by letting go of the causal beliefs.  People see esoteric healing as weird, but there is nothing more practical.  Once you understand it, you become your own healer.  
Imagine what your life would be like if you had no fear, no anger, and no judgment for yourself or another

Imagine what you would feel like if you always felt powerful, healthy, and joyful

Imagine having peace of mind all the time regardless of what is happening around you  

Imagine what might be possible for you if you could always discriminate between what was true and what was false
You Can Heal Your Life
Your True Self  knows the way to your version of paradise.  Your True Self is already positive, unconditionally loving, wise, peaceful, and joyous.  Your True Self is has no problems or sickness.  If you had no false self, you'd be living all your dreams effortlessly right now.   You would be healthy, have great relationships, and live problem free.  This is your gold, and it is buried inside of you.  
But we've all created false selves by accepting beliefs from others, which are not in alignment with our True Self.   Our false self creates problems, pain, stress, emotions, and disease.  That is why we need esoteric healing.  If we let go of our false self's beliefs, our True Self shines through and handles the problem or heals our body. 
For most of us, the false self can be quite demanding; it can be very loud and obnoxious.  It is scared of being exposed or being eliminated.  It loves healing that only fixes the effect; it hates esoteric healing because it fixes the cause.  That is what we have to face and defeat if we want complete freedom and fulfillment of our destiny.  Each of us must fight the battle of good and evil within, it is the battle between our True Self and our false self.  It has nothing to do with evil-doers or bad people in the world.  It has nothing to do with ascending to some cloud, comet, or star in another galaxy.
 

Welcome to Gateway To Gold

where 

illusions disappear and

the True Self is honored
Getting Familiar with My Perspective
Before contacting me, I suggest you do my free course Unlocking Heaven's Gate.  This way, you will understand my perspective.  This way of working is unlike anything you've done before.  I support you in healing yourself, but you must do the work.  Esoteric healing and mentorship is not a quick fix.  If you'd like more information on how we would approach your specific problems or situation, feel free to contact me for more information.  But first, please read through the following information because I've answered many commonly asked questions below.
Am I Sure This Can Be Done?
People say this can't be done.  But they are wrong.  Eliminating the beliefs that limit our life is empowering.  Each time we use esoteric healing and wisdom to find the causal belief and eliminate it, we become a little more authentic and a little freer to express our uniqueness in the world.  Nothing is incurable according to esoteric healing.    
Esoteric healing is about finding and releasing beliefs because beliefs are the cause of all problems.  Finding the hidden cause can be challenging.  That is where my experience is helpful.  There are many techniques that I've discovered to tease our beliefs out of hiding.  Once we uncover the causal beliefs, I support you in letting them go.  
Letting go feels like going through a gateway.  It transforms us in some small way just like an alchemist slowly transforms lead into gold.  Usually, the person has at least a small insight into their version of the truth with each belief they let go.  
Letting go is natural, but people have forgotten how to do it.  And the people who are winning off the collective illusion have created traps at every exit.  It requires feeling and facing our fears and our rage.  It requires radical honesty.

My Role as Mentor
When you succeed, I can't take any of the credit.  It is your success.  Like a good wingman, I can lend support and offer some tough coaching; but it is your effort that gets the date.  You reach the destination because of your strength, courage, and persistence.  An esoteric healer or mentor can best be described as a guide through the darkness.  On the other side of the darkness is the true light.  The light that everyone is chasing is fluorescent.
When the best leader's work is done the people say, 'We did it ourselves!'"  Lao-Tsu
What If I Don't Want To Let Go?
Often people find a hidden belief but don't want to let go of it.  I'll give you an example.  I was working with a woman with Multiple Sclerosis (MS).  She eventually found the cause of her illness, and now faced the opportunity to let it go.  In my experience this will set the natural healing process in motion.  
When she discovered the causal belief, however, she realized that the disease had a payoff.  She didn't want to lose the payoff, so she chose not to let go.  I discussed this with her; and shared my perspective.  She ultimately chose to keep the belief and the disease it was creating.  In the end, it is always your decision.  Even though she didn't let go, she still benefitted from our session.  If she later changes her mind, she knows the exact belief to let go.  And she knows how to let it go.  I feel certain that she will eventually reach that point in the future.  
At some point, everyone wants to be their True Self more than any payoff.  But there is no rush; we all have eternity to get this done.
The Escape from Prison
The best way that I can describe the process that you experience as you let go of beliefs is to relate the journey to my favorite movie, "Shawshank Redemption."  If you have not seen it, rent it (no buy it because you really can't watch it just once).  
"These walls are funny. First you hate 'em, then you get used to 'em. Enough time passes, you get so you depend on them. That's institutionalized."  Red  
When you start on this journey back to your authentic self, you probably recognize that you have been institutionalized by society.  We say "How are you?" without really giving a damn.  We avoid speaking about things that matter like death, spirituality, or our dreams and desires.  We do things that we don't enjoy instead of pursuing our heart's desires.  We stay in relationships that are painful and unloving.  We often feel sick and tired.  We look at the world and wonder, "Why did I come here?"  We feel that we don't belong.  That is a lonely feeling; we've hit bottom.  The illusion has won.  For now….. 
"Forty years I been asking permission to piss. I can't squeeze a drop without say-so."  Red
Now we have to make our way back to the true world.  But to do so, we must face and eliminate the beliefs (or lies) that we accepted as true along the way.  Our beliefs made us obedient to others, they pushed us to seek approval, and they consistently caused us to ignore our True Self.  We have to correct our history one lie at a time.
Esoteric wisdom teaches that we all came here with a blueprint for our life.  Like any good blueprint, it was not cast in stone but it served as a guide, a framework, a plan.  Some call this blueprint our destiny.  The blueprint reflects our desires, and we are born with the gifts and talents that we need to accomplish that end.  But our true story (or blueprint) became veiled by the beliefs of others who wanted us to fulfill their dreams or meet their needs.
Andy:  "That's the beauty of music. They can't get that from you… Haven't you ever felt that way about music? "   Red: "I played a mean harmonica as a younger man. Lost interest in it though. Didn't make much sense in here."   Andy: "Here's where it makes the most sense. You need it so you don't forget."    Red: "Forget?"    Andy: "Forget that… there are places in this world that aren't made out of stone. That there's something inside… that they can't get to, that they can't touch. That's yours."   
Along the road in the  journey to our authentic Self, we have moments where we remember the music, the peace, the joy, and the unconditional love.  But then the false self rears its ugly head with yet another belief for us to let go.  What we must remember is that each time we let go, the false self loses some of its grip.  And the True Self, which does the work of letting go, gains the higher position of authority within our mind.  Eventually, the True Self is all-powerful.  No one's false self or beliefs can affect your life experience.
It does get easier in time.  But along the way, the beliefs that we accepted show up as real and true.  They are part of our history; and much like we view the world's history as the truth, we tend to see our own history as true.  We often consider it unchangeable, so we don't even challenge it.  But our history is nothing but a memory, and a memory can be changed once you know it is not the truth.
What I offer during this time is a dependable source of discrimination that reminds you that you can remove the "his" from your "history."   You can return to just being your powerful, perfect, balanced Self with a unique and perfect story.
"In 1966, Andy Dufresne escaped from Shawshank prison. All they found of him was a muddy set of prison clothes, a bar of soap, and an old rock hammer, damn near worn down to the nub. I remember thinking it would take a man six hundred years to tunnel through the wall with it. Old Andy did it in less than twenty. Oh, Andy loved geology. I imagine it appealed to his meticulous nature. An ice age here, million years of mountain building there. Geology is the study of pressure and time. That's all it takes really, pressure, and time. That, and a big goddamn poster. Like I said, in prison a man will do most anything to keep his mind occupied. Turns out Andy's favorite hobby was totin' his wall out into the exercise yard, a handful at a time….The guards simply didn't notice. Neither did I… I mean, seriously, how often do you really look at a mans shoes? Andy crawled to freedom through five hundred yards of shit smelling foulness I can't even imagine, or maybe I just don't want to. Five hundred yards… that's the length of five football fields, just shy of half a mile."                                      Red describing Andy's escape from Prison
Our escape from our mental prison is much different from new age positive thinking, affirmations, and visualization.  It is about removing our wall of beliefs one handful at a time.  It is about fixing the cause of our problems.  At times it feels like crawling through shit, but the freedom on the other side is so worth it.
I'll admit.  About a decade or two ago, I thought affirmations and visualization were the greatest thing since the invention of fire.  I even led people in guided imagery and meditation.  But those techniques are slow and don't get to the real cause.  They usually don't push us to let go; and without letting go, the healing is incomplete.  
This quest doesn't have to take lifetimes; it just has to be a constant movement forward.  That I know.  Removing beliefs changes your future.  While others around you battle problems in the outside world, you battle your inner world.  Your inside and outside world slowly improve.  Once you fix a problem from the inside, you are free of it.  You never have to face that problem again.  To borrow the language of karma, you are actually clearing your karma before it even happens.  
The problems of the world don't affect you as much.  Eventually, they don't affect you at all.  You ultimately become free of the trappings of the normal man or women.  You become free from your roles, beliefs, and your false history.  You eventually come to live a life that most cannot even imagine.
              "Get busy living, or get busy dying."  Andy 
Most of the world is dying.  Most are fighting endless problems.  They are on a fast train to hell and don't even know it.  But some recognize this painful flaw of the normal human perspective.  And they are willing to take the risk and get busy living.  I suspect you are one of those rare individuals if you are still reading this page.  
Know Yourself
We start out working on your most urgent problems.  But eventually you learn how to free yourself of any and all problems.  Once you understand the ancient esoteric wisdom, you won't need me.  In fact, you won't need anyone.  A free person can say goodbye to doctors, therapists, lawyers, and all the other expensive roles in the illusory world.  
I can't guarantee any specific results because I'm not doing it for you.  You remain completely in control.  Likewise, your True Self determines what insights will be revealed to you or what problems are eliminated.  Your reward at first is the increased wisdom and peace of mind.  Eventually, you start to see changes in your body, relationships, and quality of life.
Since I never take your power, I give up the ability to control the results.  This is your journey.  You will receive what you know and what authentically belongs to you.
What Beliefs Should I Let Go?
As strange as it might sound, the best answer to what beliefs should be let go is, "All of them."  This is one task that you can't screw up.  Each time you remove a belief, you become more true and authentic.  You can't let go of your True Self, thus you can't make a mistake.  I urge people to let go of cultural and religious beliefs as well.  If you want to be a part of the limited, myopic world that follows false gods and is not willing to discriminate and challenge religious beliefs, this work is definitely not for you.
We've been so conditioned to think that our beliefs are true that often people think that they don't have beliefs.  They think their mind is telling them the truth.  Honestly, it would be more accurate to say that our mind does nothing but lie.  
The word belief contains the word lie within it to point you to its purpose.  To say you are a "believer" is basically to say that you are a liar.  That can be uncomfortable to realize at first.  But the truth does set us free.  Let go of the lie; and you find that the truth was always there, beneath the lie, waiting for you to find it.
People often say to me, "I have this problem or pain, but I know that I don't have a belief regarding it."  Somehow we want to pretend that chance is real.  It isn't.  I've done this long enough to recognize that as just another clever mental strategy.  I don't judge the mind's strategies, but I don't believe them either.  We are not victims of our mind's tricks and games.   
Often when we can't find the cause, a relationship needs to be examined.  People who feel that they are not causing their life, often have controlling people running their show.  I had this problem and had to clear it to get my life back.  It requires taking your power back from the person who is dominating your mind and your beliefs.  It can often be quite threatening to the person who was in power.  It is not easy, but if you want your power back, you can do it.
Beliefs of the mind are very transparent for me.  I will do everything possible to get you to let them go.  I can be very tough to work with.  The reason is that I know I can't screw this up and neither can you.  If something is really true, you won't able to let it go.  And if it is true, it will feel so peaceful and good that neither you nor I would ever want to let it go.  
If you have a problem of any kind, I can assure you that a belief, label, or memory is the cause.  Here are just a few areas where my support is often helpful.  But even if you don't have any big problems, an unfulfilled desire also points to a limitation caused by beliefs.  We're meant to fulfill all of our heart's dreams and desires and to live problem free.  
Deep religious or cult programming or parts of your religion that are disempowering you
Life-threatening or chronic illnesses, as well as non-life threatening physical problems
Strong co-dependent relationships or unresolved disagreements even if only one of the parties wants to change
Recurring dreams or visions that are uncomfortable
Parent/child relationship issues or any issues that you as a parent see in your child
Relationship problems in general
Problems with authority figures
Obsessive or compulsive thinking
Abundance issues or problems finding the right work for you
Desire to find your purpose or gift
Blocks to creative expression
Fear of success or failure
Feeling you are locked in a mental prison, and you can't get out
Chronic depression, grief, or sadness
Emotions that feel out-of-control or won't go away on their own
The inability to make an important decision
Lack of joy
Shoulds in your vocabulary or feeling that you have to please others
Any other annoying problem that you wish to disappear
The best reason to let go is to fulfill your deep desire to have it all.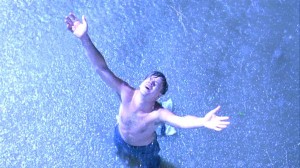 This is what you must understand.  If you have any or many of the problems that I listed above, you have a damn powerful false self.  And you are going to have to work hard to take it down.  You have to be willing to put in the time and effort.  You have to want freedom more than air.  And you can win especially with me on your side.  You can cure the incurable.  You can have your heart's desires.  You can have a peaceful mind.  You can have it all if you are willing to sacrifice your cherished manure pile of beliefs.
"Sometimes it makes me sad, though… Andy being gone. I have to remind myself that some birds aren't meant to be caged. Their feathers are just too bright. And when they fly away, the part of you that knows it was a sin to lock them up DOES rejoice. But still, the place you live in is that much more drab and empty that they're gone. I guess I just miss my friend."  

                        Red talking about Andy after he escaped prison. 
Take Advantage of the Free Stuff
I began this work with the intention of offering everything I have learned for free.  I have kept that commitment by offering the free course Unlocking Heaven's Gate and tons of information on this website.  I continuously add more.  I've learned so much that I can't write it all.  So I'm always open to questions.  Once I show you how to get your own answers and you get the process down, you'll see that you don't need answers from me.  You'll get all your own answers, and that is so empowering.
I don't withhold anything.  However, this is difficult information to present in words.  In addition, people can only get what they are open to receive.  Any one article could free you if you keep digging deeper and deeper and challenging yourself to see it from a new and broader perspective.  All of my writing is designed with the intention of helping you find and eventually become completely confident with your own perfect discrimination system.  I don't tell you the truth as much as I expose the beliefs (or lies).
I'm in the process of writing books that will expose even more of the lies of our religions and cultures.  And I continue to explore this subject on deeper levels every day.  It is a living, breathing subject that changes.  My major qualification for being a good mentor is that I've done this work on myself and continue to do so.  This is not something you can learn or memorize, you have to walk your talk one step at a time.  I still have plenty more to learn, but most of the issues that arise when I work with others have been addressed and cleared in my mind.   
Win-Win Relationship
I write on this website about the power of the win-win relationship.  That means knowing what you want, asking for what you want, and doing your part to make it happen.  But the desire must come from the True Self, not the false self. 
Our arrangement has to be win-win for us both of us.  I'm extremely passionate about this work and these ancient ideas.  I love to share the wisdom of the masters with people and watch them grow.  But this way of living takes a huge commitment on your part because the false self that was created thousands of years ago, and has run your life, doesn't let go easily.  
For example, you might work with me and clear some really big belief.  But then you talk to your friend or spouse, and they don't see the change.  They may even try to pull you back into their illusion.  In other words, esoteric healing is true healing and it demands a life change.  You have to become authentic in your relationships, your work, and your daily life.  I help you, but you have to take the reins and run.
I can support you, but I can't do it for you.  Many people want another to fix them.  In truth, no one can fix you.  But the illusion causes us to believe that they can.  We pay another to fix us because we don't want to accept ourself as cause.
I'll be honest, I could do this for free if people did not pay huge sums of money to doctors, therapists, clergy, and lawyers to fix their negative effects.  If people don't pay me on a similar scale, they usually don't take this path serious enough to get anything out of it.  They think it has no value.  Sadly, we've been hoodwinked to believe that expensive means good.  Lots of people charge a lot but give you false value.  Often they take you even deeper into the illusion or hook you to them with invisible steel cables.    
On a universal level, people who fix effects are the real root of evil.  You should never pay them a dime.  They are con artists.  Esoteric healing and wisdom doesn't consider a problem healed unless you fix the cause.  But our false self rewards us for keeping the illusion alive.  
Since I act as a bridge between worlds when I mentor someone, I challenge their long-held beliefs and one of the biggest belief categories is about money.  In the ideal world, we recognized true value; and we would only pay money for true value.  When we start paying money for truth as a form of appreciation and acknowledgement of what is true, the false world slowly self destructs like a cancer that can't find food.   So if you pay me with that recognition, you will find it supports your freedom and expands your abundance.
But in the false world, people pay grand sums for bullshit, promises, hope, and lies.  The false self makes some people rich (and others very poor), which is why Jesus said the rich won't get to heaven.  Heaven is freedom from the illusory false world, and the rich don't want to give up their huge payoff.  
Ultimately it comes down to the definition of a win-win relationship.  It is a relationship where both people either stay in their True Self or move closer to it.  When we get to the point where we only pay for things that take us in that direction, money ceases to matter.  Abundance becomes normal.  There is nothing more valuable on this planet than our True Self.  That is our goal.  The right amount of money to make that occur is different for everyone, and it decreases as you become more your Self.
The Next Step to Esoteric Healing
If you are still reading this page, your true Self is clearly interested in returning to power and you have done enough inner work to give it the strength to keep you reading.  In a way, you've passed the first test.  You qualify for what is nothing short of initiation, another name for esoteric healing.   You see, if the false self is still too strongly in power, you would have quit reading after the first few paragraphs.  That is the real purpose of this very long page.  
So since you are still here, you can procee one of three ways.  You can begin doing the free course, "Unlocking Heaven's Gate."  This is completely free.  You don't even have to give me your email address.  
Download the pdf of the book.  Then on the page just prior to the copyright page, there is a link to several hours of audio, video, and much additional text all about letting go of beliefs.  It explains how I learned all this information, and goes into great detail with examples.  On that website, you will find additional information such as sample transcripts, blog articles specifically on beliefs, and a list of commonly held beliefs.  This program was done about two years ago; and I've learned a lot since that time.  I hope to update it when I have time.  But it serves as a good starting point.
Private Esoteric Mentorship Sessions
I usually work privately with people by email and telephone.  If you are in the San Diego area, we can meet in person.  In person is the best way for us to work because people seem to energetically get the hang of letting go more easily.
People who work with me privately are always welcome to email me with questions.  Often they resolve their own problems just by writing their problem in an email.  The fee for private mentoring is best worked out individually based on what works best for you.  There are many ways to pay someone, and I'm open to all of them (well most of them).  Some people fly to San Diego to work with me personally.  Others like to work on the telephone.  Some only need email support.  Everyone is not the same, so our working relationship can only be win-win if it is customized for your unique needs and desires.  (My general quoted rate is $125 per hour or $1000 per day to give you a starting place, but those who have genuine desire and full commitment get lower rates.) 
Group Mentoring
If you have a group, I'm happy to share what I know with your group.  We start by covering the theory behind letting go in a presentation called "No Labels, No Lies," and then we practice clearing real-life problems.  Group sessions are powerful because everyone learns from every other group member.  My group rate is $1000 for the first day and less for each day after the first.  My fee includes all reasonable travel expenses (except airfare) and handouts for all participants.  A day is not limited to eight hours.  I'll work with your group as long as they can stay awake.  A weekend retreat with several friends where you split the cost is extremely powerful, effective, and very fun.
I'm very committed to support people in their truth and freedom.  I'm open to just about any ideas that will contribute to that end.  I am willing to negotiate my fee in special circumstances.  Contact me by email and let me know what you would like to do at cathy@gatewaytogold.com.   If I don't respond right away, I might be traveling.  If I get your message, I promise I'll will return it.  
"I find I'm so excited, I can barely sit still or hold a thought in my head. I think it's the excitement only a free man can feel, a free man at the start of a long journey whose conclusion is uncertain. I hope I can make it across the border. I hope to see my friend and shake his hand. I hope the Pacific is as blue as it has been in my dreams. I hope."

                                  Red on his way to find Andy in Mexico  (while I'm not big on excitement of hope, Red's True Self shines through beyond the words.)
One Last Thing
I want to share one more thing with you.  When I was really stuck in my own mind and had reached my personal bottom, I asked to be shown the way to my true Self.  I promised that I would share the information freely, not use it to fuel my own wealth and power as many had done in the past.  I wondered why this information went underground. And the reason was that people misunderstood it and misused it.  People started to think esoteric healing was weird, when there is nothing more natural and practical.
                         "Ask and you shall receive."  Jesus
I eventually found the teachings of the ancient mystery schools.  I learned the true relationship between intellect and emotions.  I learned all about esoteric healing.  I saw how to discriminate between true and false.  I learned that we were designed out of the womb to be creative, imaginative, free beings who fulfill our deepest desires.  I came to know that God was creative, unconditionally loving, and giving beyond our wildest imagination.  But God is not a concierge or a genie in a bottle.  Sadly, I also learned that much of the religious teachings, medical principles, and methods of modern education were created to stop this natural wisdom and flow.  The very things that we think are helping us are actually trapping us.
I am thrilled that I can make this information available to others; I am glad that I received it in the era of the internet and blogging where I can spread it everywhere to everyone.  But there is more.  
You see my secret desire was that the answer, if I found it, would be something that people could do alone without a guru or a long course of study with a teacher.  They could do it wherever they were; no need to travel on a long, expensive quest.  They could do it if they were a mother, a plumber, or a CEO.  It was something everyone could master, even a child.  I hoped that this process could be done without spending lots of money or needing years of certification or training.  And I hoped that it would not require a MENSA IQ to perfect.  
So my wish was fulfilled.  I found a way that everyone can return to paradise in this lifetime.  And now I am keeping my promise.  This website is the fulfillment of that promise.  I will continue to add to it as I'm inspired to do so.  I hope to publish some books in the future as my desire continues to be fulfilled to spread this information in free and affordable ways.
When you wanted to enter an ancient mystery school, the first step was that you had to ask.  So you won't find me on a big campaign telling people they have to change.  I express the ancient perspective in my writing, my speaking when invited, and to anyone I mentor or teach esoteric wisdom.  I would be honored to share it with you; but to receive, you must ask.  In that way, I honor the ancients who blessed me with their esoteric wisdom.   
Andy:  "You know what the Mexicans say about the Pacific?" 

Red: "No." 

Andy: "They say it has no memory. That's where I want to live the rest of my life. A warm place with no memory."
Testimonial:
The Weekend Intensive with Cathy allowed me to come to my True Self with my business, and surprisingly, with other areas of life, relationships, financial, health, etc.  The process she teaches planted the seeds for me to discern and work  through my challenges in life to a degree I had not been able to practice.  I am now the Co-Captain of my ship (God is the Captain!) in the vast ocean of life.  This weekend has been a huge pivotal point.  For the first time I am able to come to clarity on my own, hearing and connecting with my Inner Voice, the Only real desire I have ever had. Cathy's work is what I call "quick and clean".      Christine, Richmond, VA
Your links to this blog are very much appreciated.
Help to spread the message. When we change our minds we change the world. You are welcome to quote anything in this blog. Credit is very much appreciated. Thank you for your support.